I've been having a bit of a rough time lately. I'm doing some really cool and interesting things but I haven't been feeling very much like myself and I have started to think I know why. In the last month or so I've been really busy with some life stuff, moving around, and generally dealing with impermanence and as a result, I've ended up in a rut, and I haven't made anything lately. I haven't even been really inspired to make anything lately. In fact, I wasn't even able to come up with a design I really wanted to create for my grandmother's 83rd birthday this weekend.
Instead I bought flowers. Let that sink in for a moment.
There's a lot of great things out there on the internet, things which are really exciting, or which have proved to be challenging, in a good way. There are a lot of ideas I love which are just waiting for me to have just the right friend to give them to, and also to be near a sewing machine again, or to find just the right piece to transform. There are also pieces which are sitting at home waiting for the opportune moment to come back to them.
I'm feeling a little empty. Just because I'm traveling right now doesn't mean I don't get to enjoy making art, or keep the art I make. To remind myself of that I'm posting the following inspirations. I'm going to try to accomplish one of them before I leave Prague. This is my mission and I will embrace it wholeheartedly.
Probably. Pinterest has been really bare of interest for me lately.
First up, this super great pincushion which I did find on Pinterest, which as best as I can tell came from flickr user woolly fabulous.
I'm excited about this project because I've really needed a good pincushion which is interesting for a while, and while I really wanted to make one of those mason jar pin cushions (with the place to store other sewing stuff, and it's all useful and everything!) it just doesn't make sense to make something so rigid (and breakable) when I travel so darn much. Something cushy and more pliable will be perfect.
Second, is this lovely ring beaded bead from Pandoritos on etsy.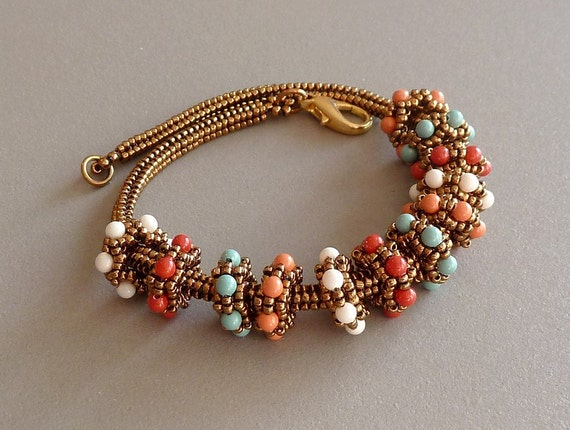 These beads would be perfect for some of the stuff I brought with me, and some of the stuff I've already bought here. I can imagine stacking three of them in different sizes for a great pair of bottom-heavy earrings.
Third, this set of pearl hair pins is something I've been coveting for a long time. The idea comes from thisisglamorous.com.
I like this particular project because it's elegant and lovely, and because I don't already have the graded pearls on hand. I'm sure I could find something similar here, which would get me out of the house and running around town.
Fourth and finally, and I know this is cheating a little bit, but I saw this pin for using things like cinnamon and orange peels in boiling water to invigorate your living space, and I realized that my place here could really use a little freshening up!
Well everyone, wish me luck in finally breaking my creator's-block!